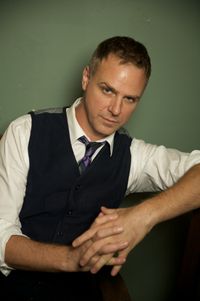 (bass/vocals):
A favorite pastime is taking pictures of his cats. To see the latest shots on his phone, just ask.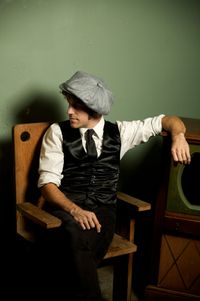 (guitar/vocals):
Has had a creepy obsession with the Titanic long before James Cameron spent a gazillion dollars creating a movie about it.  Find Tyler on 
Facebook
.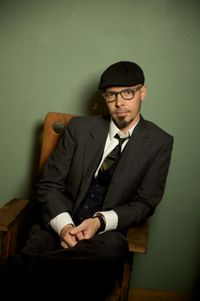 (drums/vocals):
Despite the rumors, doesn't sleep with one eye open like a dolphin.  Find Chris on 
Facebook
.
Featured in Seattle Bride Magazine's "Best of 2017"
Songlist - Click Here
E.P.K - Click Here

What people say about us:
Jane and Stephen wedding - "They're consummate professionals but they're also SO MUCH FUN--to watch, to listen to, to dance to, to applaud and applaud and applaud.  From the important logistics to the most important thing of all--helping everyone dance their pants off--they were flawless. I now believe that every marriage should be built on a foundation of trust, and Roemen and the Whereabouts."
Anniversary party - "Once their music started the night was transformed to a joyous dance party with young and old singing along and dancing under the stars. We'll definitely make these magical music makers part of our next event!   Professional, polite, talented and perfect ad lib entertainment"

Olympia Federal Savings - "They were the perfect band for our corporate holiday party. They were prompt, professional and played a great selection of songs that appealed to all of our employees. Everyone hit the dance floor on the very first song! We would highly recommend them."

Julia and Michael wedding - "We loved their repertoire, new takes on classic soul hits, and their willingness to work with us to make the night absolutely perfect. Professional, musically tight, and obviously passionate about the music they play, we can't recommend them enough."

Jenny and Andrew wedding - "They rocked our wedding! They were so awesome - friends and family are still talking about it months later!"
Space Needle Event - "They were very professional, engaging and it was a great pleasure to work with them"

Everett Music in the Plaza - "Wow!! What a show! I received such positive feedback about my great taste in music. Thanks for making me look so good!"

Stephanie and Kyle wedding - "They flat out rock, and where else can you see 4 white dudes crushing Gnarls Barkley"

Nyssa and Taylor wedding - "They were awesome from start to finish! So much talent in this group."

Edmonds Community College SpringFest - "They were all professional, positive, and had amazing talent! I would definitely recommend them for anyone."

Jill and Paul wedding - "They were able to put together a great party with limited guidance from my end! All of our guests raved about how talented they were! Thanks for making our night one that we will never forget!"
Maya and Laura wedding - These guys are AMAZING! All of our guests had a blast on the dance floor. It was a perfect evening. They had great sense of humor and were so easy to work with. Hire them!!! They're AWESOME
United Way event - "WOW! HOT! and HIP! were the words exclaimed by our attendees after experiencing Roemen & The Whereabouts. High energy, terrific harmony and positively upbeat music for our event. Highly recommended by us for any serious musiclovers whether private or corporate event. We intend to rebook them for our next event!"

Jess and Ben wedding - "You guys made our wedding perfect! We are so happy we had you!"

Keri wedding - "Everything had worked out so smoothly!!! Everyone at the wedding was blown away by you guys :) THANK YOU!"

Manager of Tutta Bella - "Roemen & The Whereabouts bring the party! Their amazing mix of old and new classics keep the party entertained well into the wee hours of the night!"
Birthday Party - "They are the shit. Hire them for your next party, funeral, business meeting. They don't disappoint!"
Casino employee - "You guys are the one band that doesn't sound like cheesy karaoke"

Edifice Construction - "Everyone loved you guys at the party and of course we want the band again.  Thank you for making my event such a great experience."

Seahawks game attendee - "My wife couldn't get enough of you guys and didn't want you to stop playing."

What we say about us:

Let's get this out of the way first -- Between the four of us we have played thousands of shows (really), have some music degrees, played on a heck of a lot of albums, opened up for all kinds of interesting people, played for crowds as small as 4 and as big as 65,000, played with famous people and completely unknown people, played on tv and radio and played in different countries around the world. Now you know that we do have experience.  Next.....

If you want to hear a band that plays music by Marvin, Stevie, Temptations, Al Green, Otis, Supremes, Commodores, Hall & Oates, Sam Cooke, Mayer Hawthorne, Meters, etc.....you have found the band.  We do that and we do our own stuff in the same vein.  Delicious!

Now we'll try to explain who we are and where we come from and how we came together and then if you want some semi-resume type stuff just keep scrolling down.  We all have known each other for quite a few years and have played in quite a few bands together.  Here's some of the connections if you care.  Wayne and Chris met back in music school at Central Washington University and have played in all kinds of groups from jazz to indie rock to classic rock.  Chris and Mark have played as the rhythm section for quite a few different bands around town and have done some radio and television commercial work together (also both have played drums in the band The Pop Offs).  Mark and Chris played on an album for Tyler in the summer of 2011.  Tyler and Chris are cousins.

OK, now how did we get together?  Chris and Mark played a wedding in the fall of 2011 doing some motown/jazz stuff and thought "huh, that was pretty fun".  Then Chris saw Mayer Hawthorne on Conan O'Brien and thought, "wow, not only is that stuff fun, but it is pretty darn cool".  So he called up Mark and said "Let's make our own band in this style (Motown/Soul) and do something with it".  They both thought about who to have play with them and called up Tyler and Wayne.  They said "yes" (in more words than that) and then it began.  We wanted to keep it small and real.  Too many people can be a pain and costly.  Any loops or pre-recorded stuff is cheating, cheesy and just plain lame.  This music was played by real musicians and we wanted to keep it that way.  As it turns out, we are pretty good at it and love it.

Want some more info?  Just gotta keep reading about us?  Well, ok.  Here's more:  

Mark grew up near Bremerton becoming one heck of a baseball player, lived in Boston for quite a while, went to Berklee School of Music, moved back to Seattle, had his own band "The Pheromones", still does solo shows around town, plays bass or drums for different bands when they need him, has done a couple of tours around the country and can build you one heck of a irrigation system or a rock wall.

Tyler grew up in the Seattle area, started taking guitar lessons from a friend of Wayne and Chris, played in a bunch of bands on both guitar and bass and has toured around the country in a van playing rock n' roll, went to the University of Washington, can be seen playing with longtime band City Zu and is pretty experienced with a hammer helping build quite a few luxury homes around the area.

Chris grew up on a 1,500 acre farm north of Spokane, played music at a young age even touring around the country with his family (almost Partridge family style), went to Central Washington University for music, moved to Seattle to play music and teach some private lessons, played/plays in a ton of bands like M-set, The Pop Offs, Spanish for 100 including a few national tours in a big gray bus, does local session work and sub work, played a Seahawks halftime show last year right on the 50 yard line and can be seen walking his dog quite regularly.

Wayne is the talent in the band, went to Central Washington University for music, plays a ton of instruments, is a highly sought after jazz and session bassist, plays trombone for the Four Tops and The Temptations when they are in town, plays guitar in rock, dance, jazz groups, plays keys for us, does clinician work around the country for jazz groups, teaches high school band, runs his own recording studio and has quite the beautiful family.  He does not sleep.